If you read a lot of family blogs, you will notice that there are quite a few November Challenges out there. What great ideas! Will you choose to participate? Here's what I know and some of my plans:


To celebrate her 2nd website anniversary, Laura at Heavenly Homemakers is proposing an entire month of gratitude--"to look deep into the ways God has blessed you." And there are prizes! I have so much to be grateful for, and I so often need to be reminded about the wealth of simple and amazing blessing that I have in my life! I'm very excited to post more and participate!








Life as Mom is proposing a "Get a Good Habit Going" challenge (I love that title!) And I know exactly how I am going to participate. I have issues with laundry. I don't do it! I don't have a plan for it! I get behind! And so on and so on! So to participate, I am committing to get a good laundry habit going! I'll keep you posted on my plan and how it's working!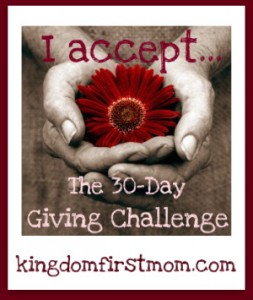 Alyssa at Keeping the Kingdom first has an awesome Giving Challenge. To be honest, I'm a little scared of this one--mainly because I don't know if I can do it! But I think participating would be a great way for me to see what I can do--a challenge. I'm going to start focusing on some little things that I can do to give, and I'll see where that will take me. I'll probably tell you more about it in the days/weeks to come. I think it's a great idea and great challenge!